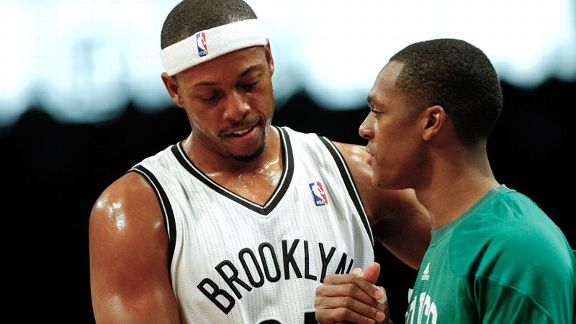 Paul Pierce is embarking on another quest with another team for the first time in his 15 year career. Moving on for Pierce, and for the Celtics was a must. It's not easy now, and it wasn't easy then on draft night. This season will have a few mantra's to live by. Moving on is one of them. Tuesday night had some closure mixed in with an actual basketball game.

Seeing Paul in a black and white uniform was odd, and it won't get any better, or it will. It will because were supposed to move on, and we have another great player right now on this team. He'll make it easy for most of us to move on. There will be those moments that will remind us of some feelings, like Paul's return to Boston.
"It's definitely going to be a lot different when I get into the Garden, the first time I go to Boston," he said. "Because you've played your entire career there, made so many friends, so it's definitely going to be emotional. I don't know if I'm looking forward to it because I already know I'm going to shed a tear or two. But it's the business. I'm here in Brooklyn now and I wish everybody there good luck."

Paul has shown in the past that he's an emotinal guy, he shed more than a few tears on ring night in 2008.


"It was a little weird looking over, seeing all the green uniforms," he said. "I'm used to lining up in the green and white for so long. But it was good to see some of the guys that I played with. I had a chance to go in the locker room and talk to a lot of the guys, wish them good luck."


"They've got a lot of good, young talent," Pierce said. "I've had a chance to watch them a couple times on TV. Obviously you see their big rookie [Kelly Olynyk]; you see [Jared] Sullinger, he's taken the next step [and] I think he's finally healthy; and then when they get Rondo back, this team has a bright future. Jeff Green, I expect him to emerge and really have a good season; Courtney Lee is comfortable out there; Avery [Bradley], it's time for him to really step up. So they have some nice pieces to build with."

"I think they're ready to assume that leadership position," Pierce said. "I think they've learned well, saw the things that we were able to do in Boston and they're ready to take over that role."
Rondo's been ready, and when he can. Rondo will be leading the best way he knows.

Categories: None