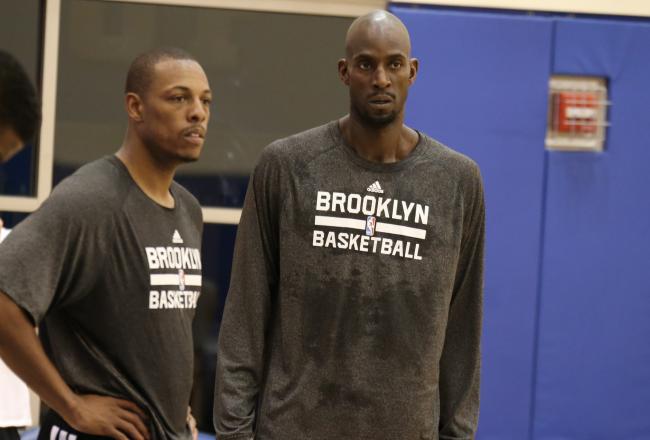 I don't think many expected the Nets to have the best record in the East, but to say they would start 3-7 through their first 10 games wouldn't have been a smart pick, but it has happened, and it's something that they should freak out about. Deron Williams has been damaged goods this season, and now their best player Brook Lopez is a little beat up. Also Paul and Kevin recently sat out a game because of minor injuries.
Meanwhile, the Nets (3-7) remain one of the NBA's biggest disappointments, shooting 9-of-41 (22 percent) in the second half. Garnett made all six of his shots in Brooklyn's 40-point first period, then went 2-for-13 from there to finish with a season-high 16 points.

"I take the blame for this," Nets coach Jason Kidd said. "We got stagnant on the offensive end, so that falls on my shoulders. We came out flat in the third quarter."

Shaun Livingston scored 23 points for the Nets, who stormed out to their best first quarter of the season and then seemed to run out of gas.

"They're a talented team. They've got Hall of Famers on that team, and we had to throw our first punch, because we felt like they did that to us in that first quarter," Matthews said. "We came at them defensively and ramped it up."

Garnett and Paul Pierce were back in the starting lineup after missing Saturday's loss to the Clippers in Los Angeles with injuries, although Brook Lopez and Deron Williams continued to rest sprained left ankles.

Pierce, who had a sore left groin, played as if he was still hurting, managing just 11 points on 2-for-12 shooting. Neither he nor Garnett spoke to reporters.




KG's hot start below






I don't know if you can blame old age on Paul and Kevin just yet. I think a lof of out it has to do with Kidd as a rookie coach. Even though he's played in the NBA for the past 18-20 years. Plus they have been injured. No offense to KG and Paul. But what if the Nets flop? The Celtics will have a crack at a lottery pick. Also what if Brooklyn and Boston fight for one of the last playoff spots. That would be weird.
This trade looks like one of the biggest flops in league history, for now at least. The season is young.

Categories: NBA News