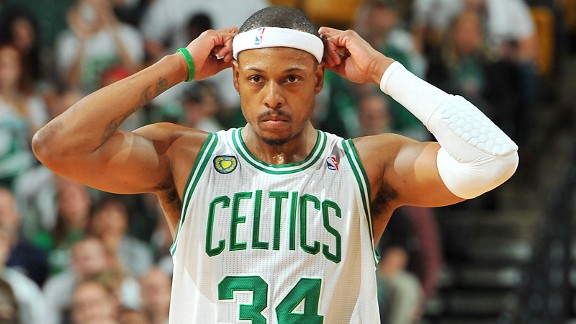 Paul has already started to ponder the idea that he may want to open a sports bar in Boston when he's done with the game. What if his plans mean something bigger? Larry Bird, and Mchale have been two of the best GM's in the past two decades. Past Celtics seem to have a knack for coaching, or running teams. Even Ainge himself as a past Celtic brought a winning team to Boston, and the all important banner 17. I believe Danny is grooming his soon for his job, but what if Paul takes over for Ainge when he wants to hang up the suit. I've never thought of Pierce as a future GM, but I never thought I would see Jason Kidd become a head coach weeks after he retired from playing the game. Paul had this to say about his future in the city of Boston.
NBA story lines as training camps prepare to open - Sports - The Boston Globe
Paul Pierce said it's been difficult to say goodbye to Boston after 15 years, and as he approaches his first Nets' training camp — along with Kevin Garnett — the past few months have allowed him to reflect.

Pierce said he wants to be a fixture in Boston following his playing days, not just showing up for his retirement ceremony and heading to Malibu, Calif., the next morning. Pierce said he wants to establish something substantial in Boston, having grown attached to the city despite growing up in Inglewood, Calif., as a Lakers fan.

"Ultimately, what I would like to do is have a business in Boston," he said. "Maybe like a sports bar. I would love to do something like that here. None of the former Celtic great players have come and done that. I thought about it, and why hasn't anyone come and opened up a nice restaurant? You see the Don Shula restaurant, the Michael Jordan restaurant, and Magic [Johnson] got the theaters in LA. Why nobody here? All this history, all these championships and love, why has nobody done that?

"I am going to still have relationships here. I'm always going to come to this city. Every year, when I'm done, I'm going to have a reason to come here."

Pierce said he holds no grudges toward the Celtics, and again pointed to a future relationship with the organization.

"Who knows? I may be working for Wyc Grousbeck or Danny Ainge," he said. "A lot of players don't understand it. I've always understood it. And [other players] let their pride and ego get in the way. I've made a lot of money here, I've built relationships, won a championship here, I thank y'all for everything y'all gave me. How can I be mad for everything they've given me. I'm thankful."

The prospect of reaching the championship pinnacle again with the Nets is intriguing.

"Me and my best friend growing up were talking and he said, 'Man, what if you win a championship in Brooklyn? Then what?' " Pierce said. "It's another level then. There's a chance I could move up in the [all-time] ranks if I get another championship. So I am still going. And they've given me more tools and I've got something to build."

Pierce said the Celtics should have no trouble attracting major free agents. "The city of Boston has changed so much since I've been here," he said. "There are so many more things to do and the city has grown. I think it would be a great place to play.

"I enjoyed it here. Hopefully, the fact that guys like me and Kevin liked it here is a sign to other players that it's a good city to play in. I'm excited about playing in Brooklyn, though. There weren't too many places I wanted to go if I had to leave Boston, but Brooklyn is one of them."






I think one thought that lingers with me is that Paul has one year left on his deal. Which means that he could come back next season on a discounted contract. He may still retire as a Celtic. I would love that if it happens. First things first. Pierce would have to take less money, and Pierce would have to fully understand that this team is Rondo's. I think will get an indication of how well Pierce steps back in a new role in Brooklyn. This is Deron Williams, and Joe Johnson's team. If he can take third or fourth fiddle then Paul will be able to do so if he wants to return in 2014-15.

Categories: None